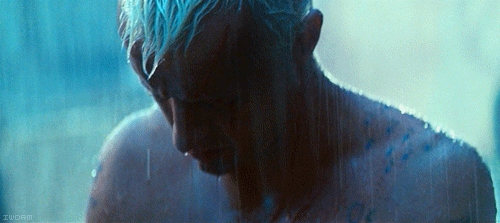 I've been thinking about Roy Batty lately, probably because I watched The Rite on HBO Monday and Ruger Hauer had a supporting role as the young priest's father. As usual, RH did a fine job and it was fun watching him. The only other movies I have of him not speaking English are Turkish Delight and Soldier of Orange. A friend sent me this gif file. Don't know where it came from (other than Bladerunner), but it's lovely, yeah? You can almost hear him talking about seeing things we wouldn't believe.
I really don't know what to say about The Rite, other than it's like a horror movie for people who don't like horror. There isn't a lot of gore, blood, or shocking things (barring a few obscene phrases that really did make the horror grade),and the Exorcist aura is a bit underwhelming, maybe because the acting is a little too good. Honestly, Anthony Hopkins never made a bad movie, because he brings the good to anything he participates in. No matter how bad it started out, it automatically becomes a lot better when Sir Anthony arrives. The man is gold, okay?
But The Rite left me feeling like I hadn't watched a scary movie at all by today's standards, and that's sad, because this thing would have utterly terrified me at 15. It was interesting and entertaining, but not frightening. Not even as scary as The Mothman Prophecies. I blame movies like Saw personally, which seem to exist for no other reason than to rack up numbers of people who absolutely will not watch it (like me). The Rite had a lot going for it in terms of atmosphere, lighting, score, actors, and even the storyline didn't suck. Despite that, I was a little surprised that it was rated PG-13 rather than R. Yeah, I know: make up your fracking mind, right?
Fine: The Rite was okay if you don't expect too much. On scale of 1-10 for just getting a story told to you, it rated about a 5. Don't expect to be terrified, although el mulo was really creepy. Do expect to be creeped out a few times and repulsed by some of the language and themes, and of course there's Rutger Hauer angsting and Anthony Hopkins doing the best Pazuzu impression since, well, Pazuzu.