Circuit Theory, co-written with Reya Starck.
Dante and Byron are avatars. Driven by human beings, yet still only
digital representations of their ideal selves. In reality, they live far
apart, but share most of their waking and working hours together in a
virtual world called Synth.


In Synth, like in most code, the laws are infinitely more simple and
infinitely more complex. Navigating the system rules of virtual lovers
is like steering through a minefield of deceit, suspicion, heartbreak,
and half-truths.


Under pressure, Dante makes a friendship that trips Byron's warning
bells, disrupting their carefully-ordered lives and calling into
question the wisdom of trusting your heart to a man you can never touch
in the flesh.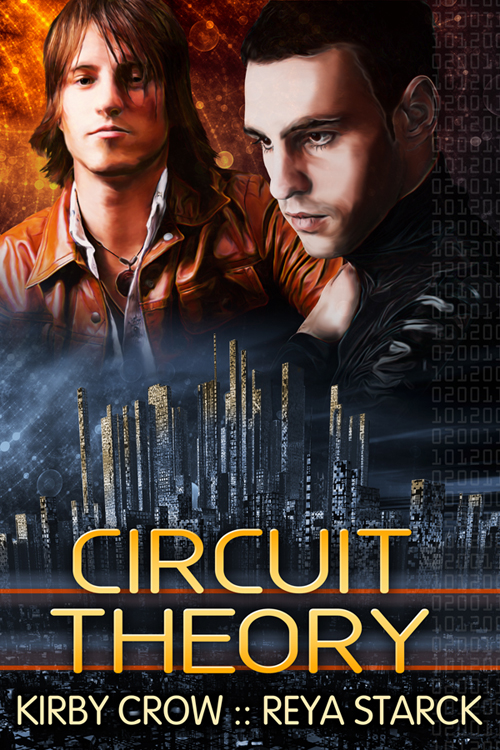 Circuit Theory  is a futuristic, occasionally quirky bit of fiction about people choosing to use their online avatars for either emotional fulfillment or as an extension of their everyday selves. There  have been stories told on this theme before, but those narratives are usually a cautionary tale meant to warn humans of the spiritual danger of relying on technology for what they should be getting from other humans, a sort of Aesop's fable for Web 2.0.  We were incredibly bored by the idea of shaking our fingers at technology, so instead we took a look at how digital romance could – for lovers like Dante and Byron – solve at least as many problems as it creates.
Reya and I will be over at Amara's Place for an interview on the 30th, and there will be a drawing and prizes at the end of the day, so please drop by and chat with us.
*cover art by LC Chase