I had some large canvases taking up space in my art cabinet, so I thought I'd give my paints a try again. (and how many of you just read "pants"?) I would love to work with oils but the smell has always put me off so badly, plus the cleanup and that horrible "wait til it's dry" thing. Heh. I'm so impatient when it comes to that. It's the internet-age Me expressing her displeasure and I want it all now. I think that's why I like Photoshop and Painter so much: instant gratification Anyway, I'm so rusty with the old-fashioned hand & brush thing that I chose a simple theme to begin with, and focusing on a creature near and dear to my heart.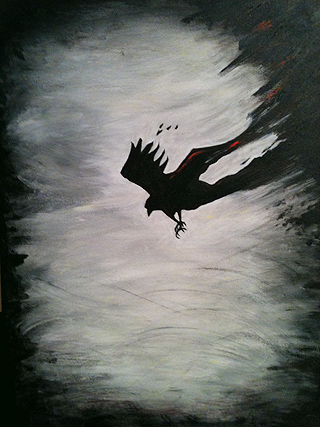 By the way, if you'd like to see some cover art I've done, drop by Jourdan Lane's page on Amazon and take a look at the cover of Clarity. Yeah, I know: again with the black paint! I've done other covers for Jourdan (colorful ones! honest!) and they'll be available by and by.
I greatly enjoyed Jourdan's Soul Mates: Bound by Blood novel and you might, too. Check it out!
More writing on the end of Scarlet and the White Wolf #4 today (title to be announced soon). Have a great Sunday!